About Cheever Construction
About Cheever Construction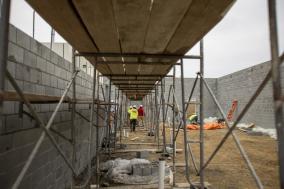 As an employee-owned construction firm, you can be assured that we will deliver on our promises. Employee owners and experienced, key individuals have maintained the consistent management and character of our company. This consistency of employment creates a culture of integrity and commitment toward each projects success.
Cheever is a relationship-based firm—we take pride in building trust with our clients and project partners in all that we do. We have built our reputation on our ingenuity, expertise, and exceptional people. We are committed to providing specialized solutions and services that align with each clients' goals. Our dedicated team of industry experts are among the most experienced and highly skilled in our regional market. It's these people (our owners - honest, hardworking, professionals) that make Cheever Construction what it is. Working together, dedicated Cheever owners have formed a collaborative relationship with our clients, architects, engineers and subcontractors, enhancing the company's reputation for superior workmanship and performance.
Cheever Construction, through these employee owners, continues to perpetuate the principles of its founder and is committed to a business philosophy that is dedicated to trusting relationships, excellence in performing services; workmanship that has enduring character; and meeting clients expectations on every project.