Willard Community Center Grand Opening
Willard Community Center Grand Opening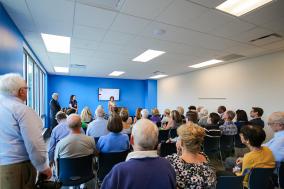 Willard Community Center held an open house to celebrate their grand opening of the newly renovated facility.
The project included expansion of the existing 100-year-old facility with a new 3-story addition totaling 2,320 sq. ft. Additional renovations included installation of a new roof and windows, HVAC system, handicap accessible restrooms and an elevator. The facility now has five event rooms used for Center programming as well as two preschool rooms.
Congratulations Willard Community Center!