30 years at Cheever!
30 years at Cheever!
Thursday, January 7, 2016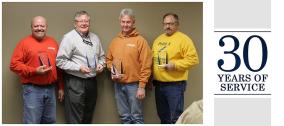 Congratulations to Chuck, Wes, Tim and Martin for reaching an important milestone with Cheever Construction. From the smallest project to the largest undertaking, your hard work has not gone unnoticed.
Thank you for your years of diligence and commitment!